Affordable Acupuncture In Orlando
Acupuncture is an ancient technique originated in China and used to treat chronic pain such as back pain, neck pain, lumbar pain, arthritis, and other spinal problems for over 3000 years. Best Acupuncture Orlando is an acupuncture clinic in Orlando & Altamonte Springs, Florida provide safe, natural and affordable acupuncture in Orlando for chronic pain and to achieve great well being.
The word "Acupuncture" derives from the Latin Acus Means "Needle" and Puunctura Means "Puncture".
After so many clinical trials of acupuncture for treating chronic conditions, it is confirmed that acupuncture is a very safe treatment for chronic pain. Acupuncture treatment can also be incorporated with other conventional treatment such as chiropractic treatment to reducing the costs of treatment in managing patients with chronic pain.
Acupuncture treatment is a part of Traditional Chinese Medicine called (TCM) and it is considered the most effective healing treatment since ancient time. After successful clinical experience and his ability to treat human illness, acupuncture being accepted all over the world. Acupuncture treatment is approved by FDA because it doesn't have any negative side effects. Acupuncture treatment works well when it performed by a trained and licensed acupuncturist. Acupuncture treatments are considered as a painless treatment even though the needle is being used in the treatment. The needles used in the acupuncture treatment is actually made of gold, silver, bone, stone and even bamboo, not stainless steel and this is why acupuncture treatment is a natural and safe treatment. In the United States, acupuncture treatments rank number one among all other conventional and alternative medicines practice. In fact, many medical practitioners are choosing or referring Their patients suffering from chronic pain to the acupuncture treatment.
The world health organization (WHO) has determined that acupuncture can treat more than 65 conditions such as back pain, sciatica, sports injuries, headaches and migraines, insomnia or sleeplessness, infertility, anxiety, depression, heart problems and many more. A recent survey on acupuncture shows that 75% of patients reported that the physical and emotional symptoms were relieved after the acupuncture treatment.
In 1971 Acupuncture treatment gained attention when New York Times news reporter James Reston shared his treatment experience in China.
How does Acupuncture treatment work?
Acupuncture treatment works by maintaining the flow of blood called Qi. When your Qi or flow of blood disturbed in a meridian you will face pain. According to Traditional Chinese Medicine (TCM), energy flows within the body and can be stimulated to get the better well being and health. The energy flow or Qi pass throughout entire body known as meridians.
The goal of acupuncture treatment is to balance the flow of energy or blood and restore the health by inserting tiny needles into the skin at certain acupuncture points depending on the conditions. As per stated in research, there are more than 365 different acupuncture points for different health conditions. Research shows that people start getting relief from pain when needles stimulated nerves or energy.
Acupuncture treatment targets painful trigger points to release the symptoms of the conditions. Acupuncture treatment stimulates our body's pituitary glands to decrease inflammation and to release cortisol.
What happens in a typical acupuncture session?
Acupuncture session starts with through history and physical examination. Acupuncture treatment also involves general questionnaires such as diet and living style. After the careful examination, acupuncturist advises you to start your first acupuncture session. Your first acupuncture session may take up to 60 mins so that a treatment plan can be created for the specific conditions and complaints of each patient.
After the first successful session, you have been asked for a follow-up session and during follow up sessions, the acupuncturist prepares the progress of the treatment plan and makes changes if needed. This second session or follow up sessions may take up to 30-40 minutes.
Acupuncture treatment starts with inserting needles in the certain point of your body depending on your conditions to stimulate the Qi. You will feel little or no pain depending on your body. Needles used in the acupuncture treatment are sterile and disposable and can not be reused on other patients. Once you done with the acupuncture treatment needles are removed.
Sometimes, acupuncture treatment could also be used with other forms of acupuncture such as Moxibustion, Laser acupuncture, and electric acupuncture in order to treat your condition.
How many acupuncture sessions do I need to treat my conditions?
It also depends on your conditions or problems but on an average of six to 12 sessions are advised for a single disease. Below is the list of conditions and number of sessions required list: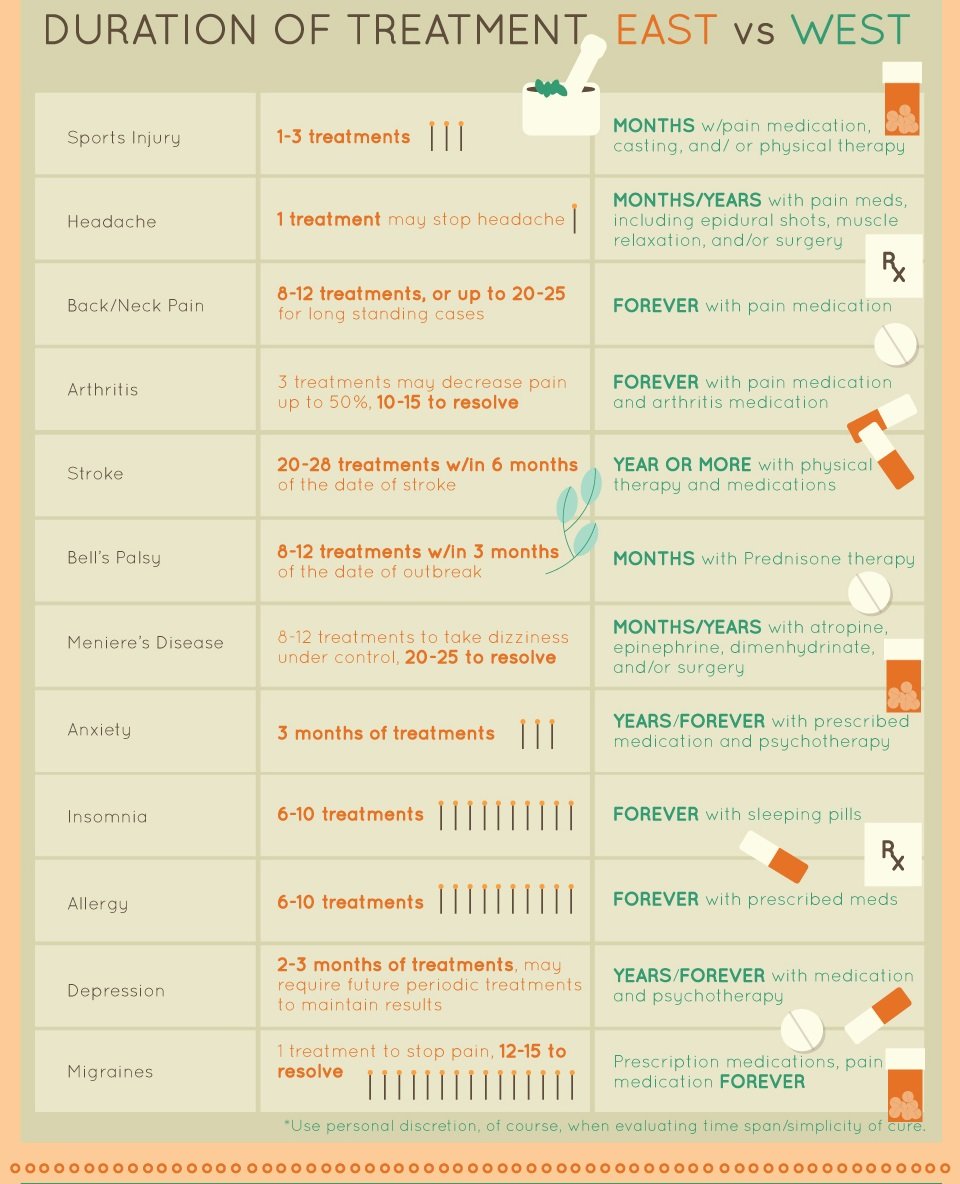 Advantages of acupuncture
As mentioned above, there are large well designed clinical trials that demonstrate the clinical efficacy of acupuncture treatment in treating chronic pain such as neck pain, back pain, lumbar pain with superior success rate.
Acupuncture treatment is a safe and natural treatment when performed by a trained and licensed acupuncturist.
Laser acupuncture treatment is risk-free treatment because low-level of lasers (25-100 mW) used in the treatment to stimulate acupoints or Qi. Hence, it's considered as an infection less treatment.
Acupuncture treatment is a cost-effective treatment compared to other treatments.
Acupuncture treatment is a drug-free way to ease the pain. Acupuncture treatment responds quickly as compared to other medical treatments.
How to Find an Acupuncture Practitioner In Orlando?
If you are looking for an acupuncturist, you should discuss the acupuncture treatment with your primary care practitioner. The reason behind this because of acupuncture treatments used widely in united states, your practitioner may aware of the licensed acupuncturist in your area depending on your conditions. If you are living in the Orlando or Altamonte Springs, Florida then you should visit our clinic for more medical assistance and free consultation.
If you don't have any recommendation then you may search online for "best acupuncture in your city" or "best acupuncture Orlando". By this way, you will reach top acupuncturist In your area.
Can acupuncture works with other Alternative Therapies?
Yes. Acupuncture can also work well with other alternative therapies. Acupuncture treatment is often performed with the context of Traditional Chinese Medicine (TCM). Sometimes acupuncture treatment needs to use within conjunction with "Moxibustion" and "cupping" to increase the energy flow to a concern area. However, Acupuncture treatment also works with chiropractic treatment. Many chiropractors recommend acupuncture treatment before starting their chiropractic treatment in order to treat the conditions. Acupuncture treatment increases the blood flow in the body. Dr. Alexander Hou at Best acupuncture Orlando Clinic we use acupuncture treatment in conjunction with other Traditional Chinese Medicine (TCM) treatment to get the best results. If you're looking for the safe and effective acupuncture in Orlando then give us a call at (407) 896 3005 to get the free consultation.

Best Acupuncture Orlando Services
Acupuncture Orlando Clinic

Acupuncture Altamonte Springs Clinic

Best Acupuncture Orlando Clinic